Carol Tatum Memorial Gala
Typically held in February, The Carol Tatum Memorial is the highlight event of the year and is so very important to Pegasus as a major source of funding for our therapeutic riding program. The gala highlights the accomplishments of our program to honor Pegasus founder and former Executive Director Carol Tatum, who lost her battle with breast cancer in November 2005. The gala committee works all year to coordinate our ad book, raffles and silent auction to benefit the riders and programs of Pegasus Therapeutic Riding Academy. Check out our gala page for more information about this awesome event that supports Pegasus TRA.
Welcome Back & Volunteer Appreciation Dinner
Typically held in September, Pegasus honors the dedication and hard work of our incredible volunteers at the annual Welcome Back & Volunteer Appreciation Dinner. The dinner, cooked by board and staff members, is held in the arena at Pegasus. To express our gratitude to volunteers whose service and commitment to our program have been truly exceptional, we gave special recognition to volunteers who have reached milestone years of service and present the Volunteer of the Year awards.  All riders, volunteers, and families are invited to attend. It is a fun night of food, fun, music, barn tours, pictures with horses, 'Pegasus Quizzo' and the staff makes raffle baskets to contribute for the evening.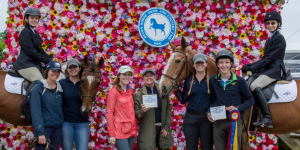 The Pegasus Horse Show is held on a Saturday in September. This is an opportunity for all of the Pegasus riders to display their talents for family and friends. The show is divided into classes based on abilities, with special awards given to first place in each class. In addition, the Best in Show Award is selected by the judges based on effort and performance. We are very pleased to be able to showcase our riders and their special talents. The horse show is a very special day at Pegasus, filled with smiling riders, and proud families – and every rider receives a blue ribbon!
Therapeutic Riders Division of the Devon Horse Show
Every year Pegasus participates in the Therapeutic Riders Division (TRD) of the Devon Horse Show, which is held at Thorncroft Equestrian Center in Malvern, PA. Riders from therapeutic riding programs in the region compete in this day-long horse show. Competing in the TRD is a very special experience that promotes riders' self-confidence and self-esteem. Pegasus is represented by our more experienced riders, who compete in the Equitation, Trail and Dressage classes. Grand Champion riders of the day with the highest points are invited to compete in the Dixon Oval at the Devon Horse Show area grounds the following day.